Working from home productivity boosters: Office furniture for home
18th Dec 2020
'Is my company maximising efficiency?' - is probably the star question of the year. There is no doubt that 2020 has been a time of change in many aspects of our lives in the UK and worldwide, however one aspect stands out - home working has suddenly and steadily become the new norm. While there are certainly advantages to this shift, it has not come without challenges. The question that every employer has been battling with is: Does working from home boost or hinder employee productivity? And if the latter is true, what can be done to improve efficiency?
The rapid rise of the home office
Even before the pandemic, more and more companies in the UK had started introducing flexible working as one of the employee perks that helped not only attract and retain talent, but also protect the mental health and wellbeing of their staff by allowing them to tailor their hours and workspace environment to their personal or family needs. This has been a truly welcome workplace practice that more and more people were enjoying or at least being comforted by the knowledge it existed.
However, as the spring of 2020 swiftly changed the way in which society was able to interact, as lockdowns and social distancing measures gave many people no choice but to work from home, the allure of remote working started blurring and it became unclear where does it lie between being an advantage or a disadvantage to businesses and their staff.
Employers had to quickly adapt, learn and reimagine ways of working. By means of surveys and endless brainstorms, they understood what sort of issues their employees have been facing and that there are a number of measures that can be implemented in order to turn the challenges of remote working into benefits. Among feeling isolated, having to juggle child care and home schooling with work and struggling to block out noises on client calls, one issue was recurring, distressing and actually hindering work productivity: The change has been so swift and the home office has risen so rapidly that people started using makeshift workspaces in bedrooms, lounges or kitchens, which more often than not resulted in sore backs, stiff necks, added stress and lowered focus and productivity.
And while some employers and their office support departments have started tackling this challenge by providing their employees with the right equipment for home working, this is still an issue that affects numerous people across the UK. Employers are faced with the need to rethink ergonomy and the impact of work equipment and office furniture on the health of their staff not only in the office, but also in their home workspace. There is an urging need to provide people with the tools and equipment they need, to provide support with special requests and to inform and educate on the correct working posture, distance from the screen and ways of creating a healthy working environment at home.
Productivity essentials for home working
Replacing a makeshift workspace with a proper home office set-up facilitates focus and productivity while encouraging a healthy posture, altogether contributing to increasing the general satisfaction and efficiency of employees.
The Home Office Desk
Good posture starts with aligning the monitor height so that the top of the screen is at eye level while positioning the monitor at an arm's length distance. This is clearly hard to attain by working at a coffee table in the lounge or sitting on the sofa. And while the kitchen table can act as a decent computer desk in terms of size and posture, it is certainly not ideal for creating a conducive work environment.
Declutter your space, declutter your mind. There is nothing like a clear, clean design, spacious work desk for fostering a productive environment in your employees' home office. Moreover, choosing an office desk with easy cable dumping helps keep a minimalist visual aspect of the workspace and boosts focus.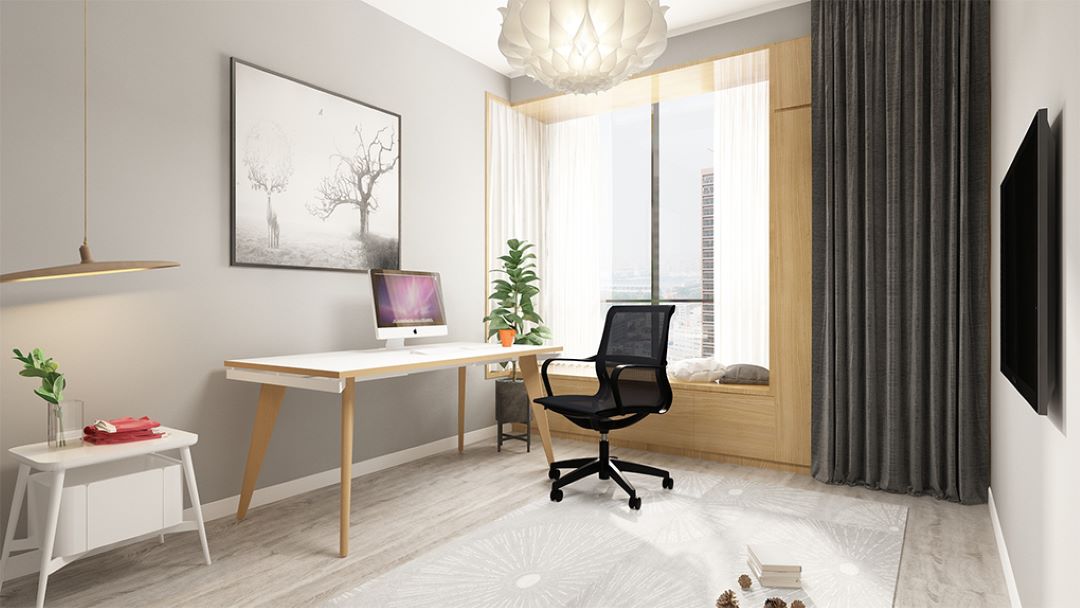 Oslo Single White Frame Wooden Leg Bench Desk
If you're looking for ideas, the Oslo Single White Frame Bench Desk from Panelscreens is a budget option that encompasses the functionality, design and quality features for creating a zen, spacious and productive environment for your employees who are in need of one.
The Home Office Chair - the star of the show
Eventually, posture is all about sitting in the right position in order to accommodate the spine and its natural curves, release pressure from the joints and muscles and distribute weight correctly. This has long been a challenge for office managers to accomplish and it has been accentuated by the new trend of working from home. Due to incorrect posture and using table chairs or sofas, the majority of the employees experience backache, neck pain, joint issues and even headache, all leading to a decrease in motivation and productivity.
Therefore, providing appropriate office chairs for your employees should not be a 'nice-to-have', but an essential and a priority for the business. Office chairs are designed to perfectly accommodate the body, adjust to the height, tilt and lumbar support needed and allow the mind to focus on producing quality work rather than dealing with comfort issues.
How to choose the right office chair for your employees' home office? Personal requirements should be the priority. Task chairs are functional, supporting productivity and flexibility and can be ideal for your staff with a more dynamic lifestyle. However, if your employees have any particular concern or requirement related to their posture, an ergonomic office chair can provide them the perfect adjustability and comfort needed in order to perform their work without worrying about the disadvantages of working from home on their health.
Ergonomic posture office chairs
If you don't want to take any chances and make sure your staff have optimal support and the ideal environment for working productively from home, opt for an ergonomic posture office chair.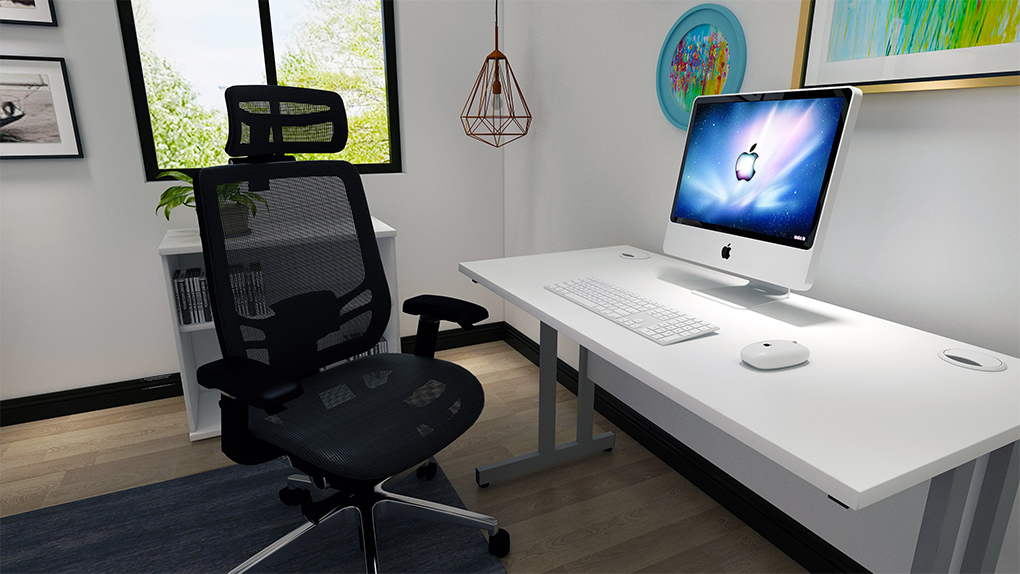 Ergo Click Plus Office Chair With Mesh Back & Headrest
Research what your employees' needs are in terms of areas and concern and choose depending on that. If you'd like an option that answers to all types of posture concerns, The Ergo Click Plus office chair from Panelscreens with black mesh seat and split backrest design with additional mesh headrest accommodates the body for an ideal working position and easy adjustments, while providing optimal lumbar support, as well as adjustable support for the arms, encouraging a good posture for the shoulders.
Task chairs
If budget is your priority and your staff is less concerned about particular posture issues and would rather have flexibility and dynamic movement, task operator chairs can be a great solution that will blend well with the home design.
Eclipse Plus II Lever Task Operator Chair Charcoal Without Arms
Eclipse Plus II office chair from Panelscreens is an adjustable task operator chair without arms that provides a budget solution for a versatile office chair that adjusts to multiple body types.
This operator chair comes in a wide array of colours to suit the rest of the home office, creates a professional environment and perfectly accommodates the body with its dished seat, contoured high backrest and waterfall front. Its gas lift height adjustment lever allows finding the ideal positioning to the office desk, while the angle and height adjustable back offers flexibility and minimises body pressure.
Home office storage
Staying organised is not only important but also sometimes tricky when the workspace is being moved home. Documents, access cards, headphones and other work accessories can get misplaced and lost, not to mention the mystery and interest that these items present to young kids being home and around their parents in their workspace. Being able to store these in a secured place that is clearly dedicated to the professional environment is essential and can contribute to work efficiency. The solution? A mobile pedestal is an easy, light and budget option for avoiding storage mishaps.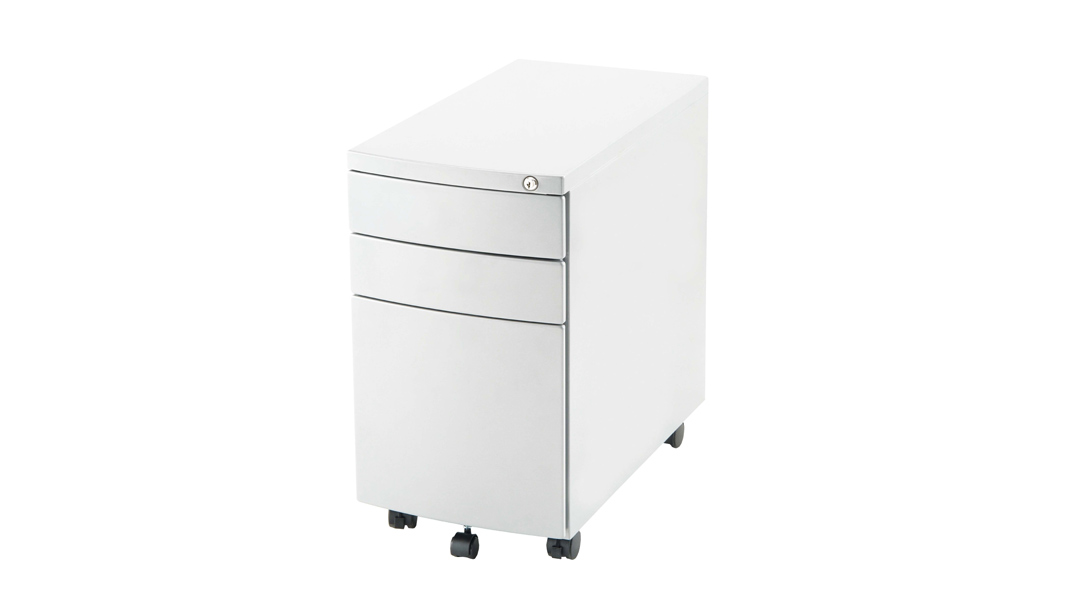 Slim Mobile Office Pedestal, While
The Slim Mobile Office Pedestal in white steel from Panelscreens provides a high quality yet lightweight solution for home office storage. Its slim built and easy run castors make it seamlessly fit under the home office desk and the lockable drawers help keep items securely stored and organised.
Acoustic screens
Not last on the list of challenges that employees face while working from home is managing sound and blocking out noises so that they can work efficiently, but also more importantly, so that they can conduct their daily meetings and client calls with minimal noise nuisance.
While providing noise-cancelling headphones is the easier option, many people prefer working without a set of headphones attached to their ears all day, especially on the long term. For these employees, acoustic screens can be the optimal solution, allowing them not only to minimise background noise but also to create a separate space in their home, should they need to share the workspace with their family or housemates.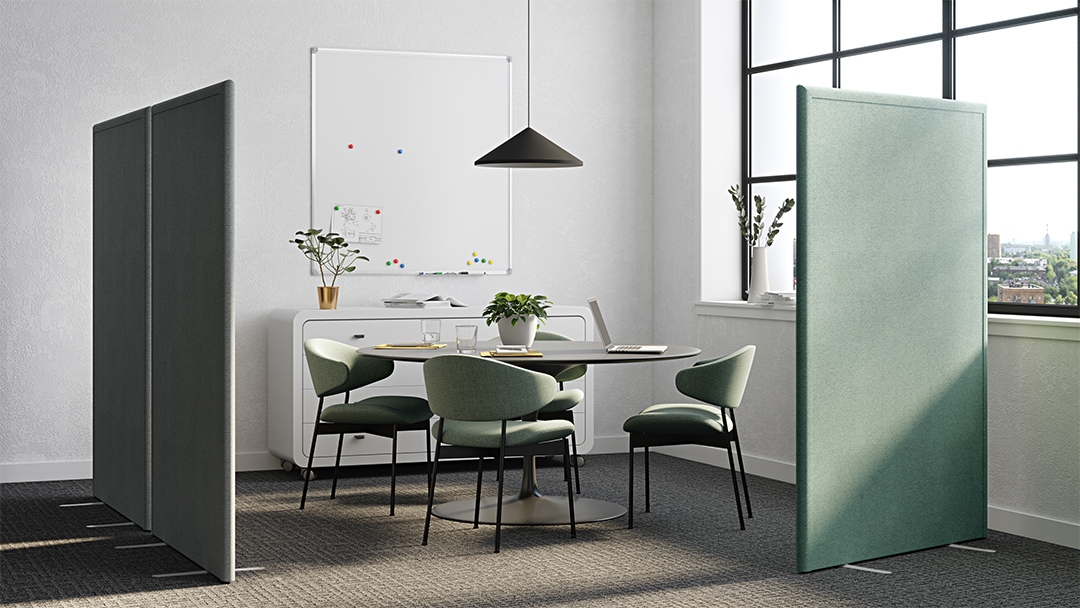 Budget Super Acoustic, Non-linking Office Screen
The Budget Super Acoustic, Non-linking Office Screen from Panelscreens is a perfect option for creating a professional environment at home, on a budget. It is non-linking, with free-standing feet, which makes it ideal for easy manoeuvring and usage as a home office acoustic screen. Its minimalist and clean design and elegant look in light mint colour allow it to seamlessly blend with the home decor, while its sound absorbing properties help reduce background noise and facilitate undisturbed client calls. A great additional benefit is the fact that it can provide a perfectly professional and neutral background, a perk that many employees would be very thankful for and that can be a game-changer for important client meetings.
Whether your staff and colleagues have expressed concerns regarding the functionality of their home office or not, it is definitely good practice to go the extra mile and find out how your company can help enhance the usability and comfort of their remote workspace. When employees feel cared for, their motivation and dedication to work increase. When they are able to focus and work effectively, the business will benefit in the short and long term, from good quality work outputs, efficient meeting outcomes and retaining talent over time.
Working from home is a recently accentuated trend, however it looks like it is here to stay. Therefore, providing appropriate office furniture for your employees' home office is essential, and so is choosing the right office chair, computer desk and sound management accessories.